"First rate analysis at a cut-rate price."
— Creative Screenwriting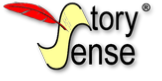 We'd love to hear from you.
Story Sense is located in Santa Monica, California, but our clients come from everywhere. We have worked with a director in India, a producer in Italy, a screenwriter in Japan, and hundreds more creative minds all around the world. We are just a phone call or an e-mail away. Please contact us to learn how together we can make your script the best it can be.
If you desire more information about our company, our services, or our Web site, feel free to call or write to us. Our business hours are 9 a.m. to 6 p.m. Pacific time, Monday through Friday. We respond to e-mail inquiries within 24 hours.
Story Sense
P.O. Box 3052
Santa Monica, California 90408
U.S.A.
Telephone: +1 (310) 394-0994
Facsimile: +1 (866) 629-0199